The route involves a 1,000km open-ocean crossing into the North Atlantic, one of the roughest and most notorious seas on the planet. But for Thunder Child, I am confident that we will set a new record and have a safe, albeit nail biting, trip. The trip will involve several hours' navigation in the dark and will inevitably encounter rough conditions which will put incredible stress on both vessel and crew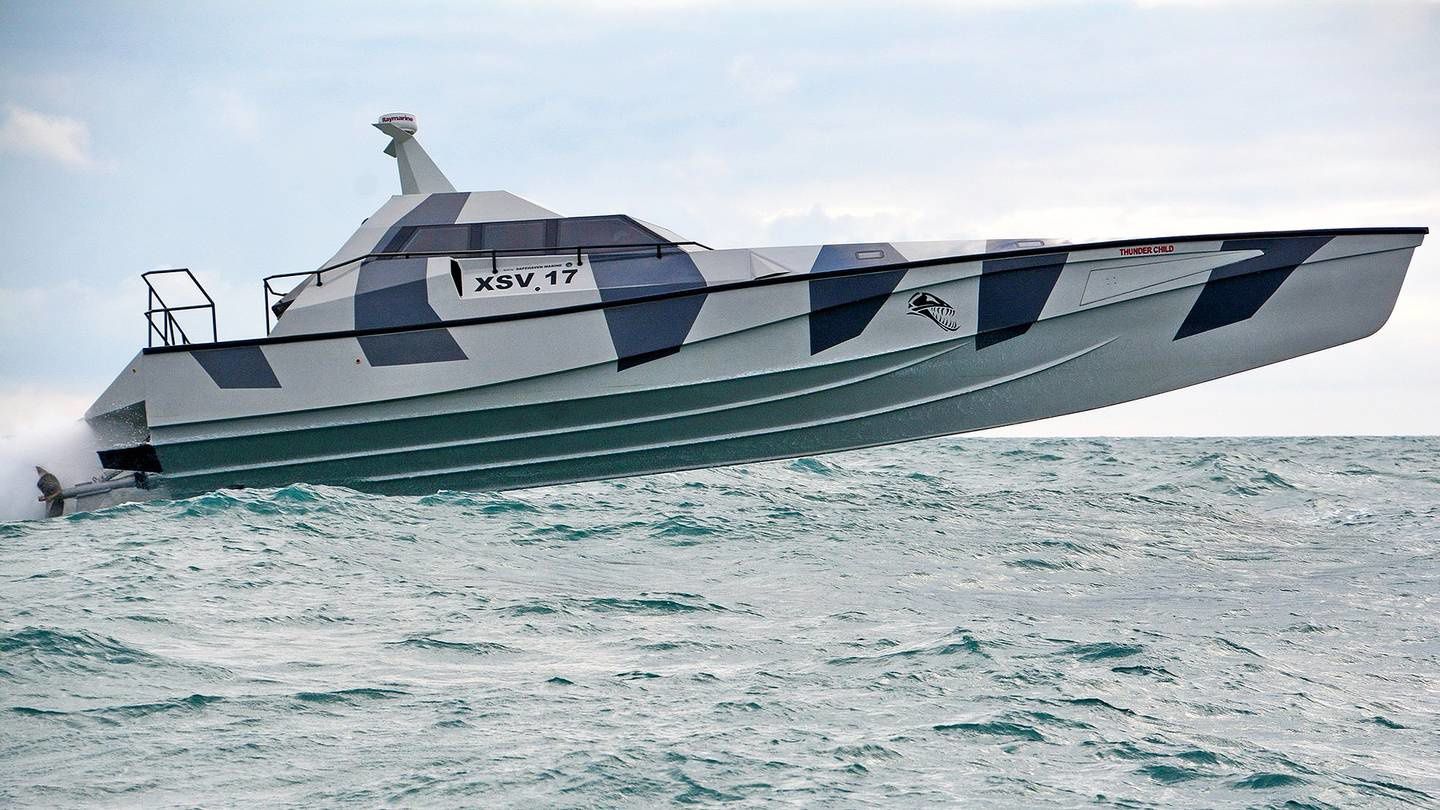 Thunder Child XSV-17 : Barracuda family of boats, in any maritime application where speed is critical - a Safehaven Marine production
Safehaven Marine is world-renowned for building hardy boats that can take on challenging missions in the harshest environments—and they look gorgeous while doing it. With a portfolio ranging from search and rescue vessels to pilot boats, and from wind farm tenders to scientific catamarans, diversity is sort of their thing. Last year they made a splash when they unveiled their stealthy high-speed patrol boat, the Barracuda. Now they've introduced its bigger and badder cousin to the world, the aptly named "Thunder Child."
Let's get this out of the way first—Thunder Child XSV-17 is one handsome piece of marine engineering—and seeing it in action only solidifies that fact. Watching the ship fly through the water you immediately hear the synth beat from the opening of Miami Vice or the theme from Thunder in Paradise in your head, depending on your generation. There is no doubt that this thing has a lot in common with the high-performance race boats featured in both those shows. But Thunder Child is the real deal, with real military and law enforcement applications. It can also take one hell of a beating.
'Thunder Child's' sea trials in storm force conditions
Safehaven sees a role for Thunder Child's production variant, which will be part of their Barracuda family of boats, in any maritime application where speed is critical.
It cruises at over 40 knots, but can be throttled up to 60 when time is of the essence. The boat is ideal for missions like patrol, interdiction, asset protection and pursuit, and it can be armed with a 7.62mm or .50 cal gun or a 40mm grenade launcher in a retractable bow turret just like its smaller Barracuda cousins. Additionally radars, electro-optical and communications suites, and even less than lethal weaponry, can be installed depending on customer needs.
Thunder Child, with its stealthy design and extreme speed, could also act as a special operations support vessel for low-intensity warfare and reconnaissance missions. Here is how Safehaven Marine describes the ship's decreased radar reflectivity:
"The design of XSV 17 utilizes various stealth technologies to produce a lower RCS (radar cross section), allowing it to operate with a very high degree of invisibility to an adversary's radar. Stealth technologies are employed in the superstructure and hull design utilizing flat plane principles to its surfaces in the forward, aft and cabin side projections to deflect radar beams away from source. These unique features work together with RAM and specialized outfitting, including minimal metallic fittings above decks. All of which combine to produce a vessel with a very significantly lower than normal RCS from all aspects."
Above all that, it retains the search and rescue pedigree that Safehaven has built over the years. When the clock is ticking, the difference between 60 knots and 30 knots can easily mean life and death.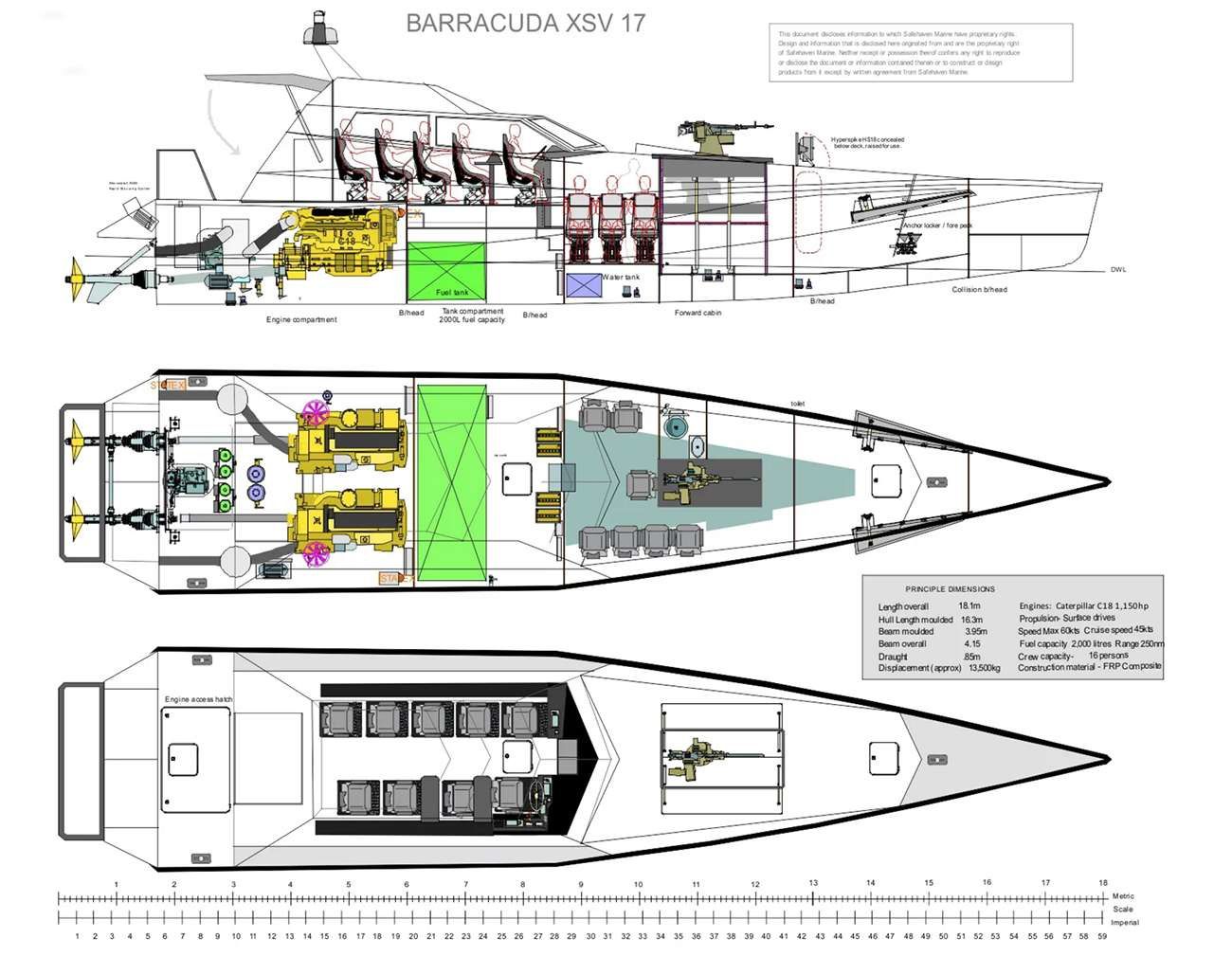 Thunder Child can operate with a crew of up to ten—six in shock attenuating seats in the cabin and four in the bow cabin, which also includes a head and a berthing area. The Barracuda production variant can up the load to 16. The boat is 59 feet long and just over 13 feet wide. Fully loaded she displaces 20 tons but has a draft of just two feet, nine inches. Able to carry 1,320 gallons of fuel, Thunder Child could range out to 750 miles under power from her twin Caterpillar C12.9 1,000hp engines. Its surface drive units are also quite special, as you can see in the video below.
Probably the most unique feature of the boat is her hull, which was painstakingly designed to take on pretty much anything the sea can throw at it. Safehaven describes Thunder Child's design as such:
"The vessel is constructed from advanced lightweight FRP cored composites. The radical and innovative hull design combines a constant deadrise deep V hull form incorporating twin chines capable of 60kts with a wavepiercing bow form. A 24 degree deadrise at the transom transitions to a wave piercing bow, with a super fine wave cutting waterline entry designed to run clear of the water at very high speeds, but which can be bought into dramatic effect with adjustable trim control to very effectively minimizes vertical accelerations at speed in waves, thereby maximizing crew endurance. The hull provides exceptionally high levels of seakeeping abilities on all courses with its twin chine arrangements providing for high levels of both static and dynamic stability. The design is fully self-righting, capable of recovering after capsize by a large breaking sea and is survivable up to sea state 8, capable of operating effectively in up to sea state 6, and maintain operational speed in sea state 4. A unique feature is the bow buoyancy control fins used to increase buoyancy in following seas preventing excessive submersion, the fins are adjustable for wave height and craft speed."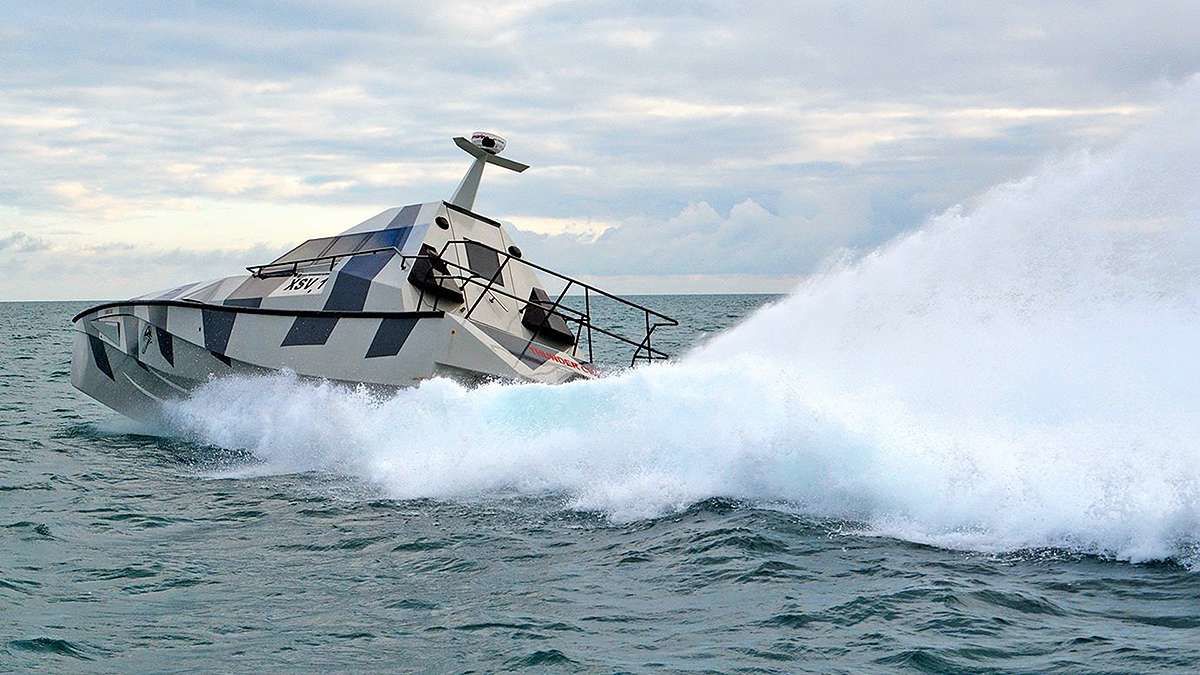 This thing is not just a militarized race boat. It can also survive in some of the worst weather on the planet. The ability to provide its full operational envelope over a wide range environmental conditions—and even in full-blown storms, sea state 6 means wave heights up to 20 feet—indicates that Thunder Child is not a niche capability. The boat simply offers far more speed compared to boats executing similar missions in these conditions today.
It will be interesting to see if Thunder Child—or more accurately, its Barracuda production variant—can find a place in the market. Countries in Asia and oil-rich nations in the Middle East come to mind first when it comes to buyers for a craft like this. They could also be useful off the shores of Latin America, where drug smuggling remains a major problem. There's also some chance of being adopted as a very rough-water operations craft by some special operations units. But the reality is that any coast guard could benefit from more speed, especially for homeland security and search and rescue operations. Thunder Child is so unique because it offers a lot more of just that without sacrificing sea keeping abilities.
Safehaven looks to make a record setting high-speed circumnavigation of Ireland this summer in Thunder Child as part of the proving process for the new design.
Frank Kowalski of Safehaven Marine describes the pending adventure:
"The route involves a 1,000km open-ocean crossing into the North Atlantic, one of the roughest and most notorious seas on the planet. But for Thunder Child, I am confident that we will set a new record and have a safe, albeit nail biting, trip. The trip will involve several hours' navigation in the dark and will inevitably encounter rough conditions which will put incredible stress on both vessel and crew."
read more :
http://www.thedrive.com/the-war-zone/6811/fast-and-stealthy-thunder-child-is-a-wave-carving-thing-of-beauty
A.M.I Réseau - Distributeur de Suspension pneumatique auxiliaire pour 4x4, véhicules de loisirs, camping-cars, poids lourds, mi-lourds (Dunlop)
A.M.I. Réseau - Distributeur de Suspension pneumatique auxiliaire pour 4x4, véhicules de loisirs, camping-cars, poids lourds, mi-lourds (Dunlop). Contactez-nous pour toute demande de devis.
A.M.I Réseau - Distributeur de Suspension pneumatique auxiliaire pour 4x4, véhicules de loisirs, camping-cars, poids lourds, mi-lourds (Dunlop)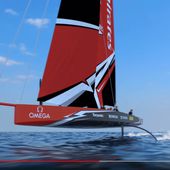 The revolutionary new America's Cup AC75 revealed: from 2D to 3D - from virtual to real ! - OOKAWA Corp.
The revolutionary new America's Cup AC75 revealed The concept of the revolutionary new AC75, the new foiling monohull class that will be raced in the 36th America's Cup in Auckland 2021. The ...
http://ookawa-corp.over-blog.com/2018/09/the-revolutionary-new-america-s-cup-ac75-revealed-from-2d-to-3d-from-virtual-to-real.html
The revolutionary new America's Cup AC75 revealed: from 2D to 3D - from virtual to real ! - OOKAWA Corp.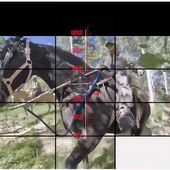 UTAH Horseback riding tour and vacations with Shane Stratton - 3D SPORT CENTER
UTAH Horseback riding tour and vacations Horseback Riding in Utah will transport you back in time to the old wild west. Ride deep into wildness with Shane Stratton Utah horseback riding tour 1 day ...
http://3d-sport-center.over-blog.com/2020/02/utah-horseback-riding-tour-and-vacations-with-shane-stratton.html
UTAH Horseback riding tour and vacations with Shane Stratton - 3D SPORT CENTER